Experience Makes the Difference
Whether you're looking for dental implants, trauma restoration or wisdom teeth extraction, NuSet Dental Implants and Oral Surgery is the top provider of oral surgery in St. Louis, MO. We do things differently here. Because you have a Patient Consultant from your very first visit, you're never alone in making your choices … and we're devoted to making sure that you always have a real choice! We perform a full spectrum of dental implants and oral surgery in St. Louis, meaning that you'll never be forced into any procedure because it's the only one we do.
Here, You Have Real Choices!
Single dental implants are the longest-lasting replacements you can get for one or two missing teeth. They attach permanently to titanium posts, which are surgically implanted into your jawbone to become the closest thing to natural teeth. Each restoration is custom-made to match the rest of your mouth, so your friends and family won't even realize that you've had a tooth replaced!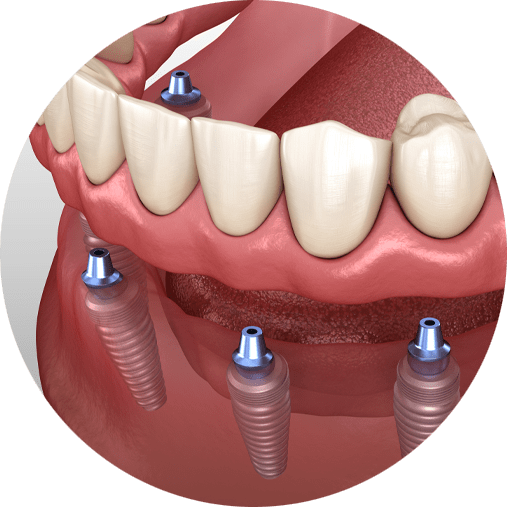 Implant Supported Dentures
If you're looking for a combination of the strength of dental implants and the flexibility of dentures, implant supported dentures may be the best option for you. These fully removable restorations snap on to two or more titanium posts, preventing the dentures from moving around in your mouth without the need for adhesive.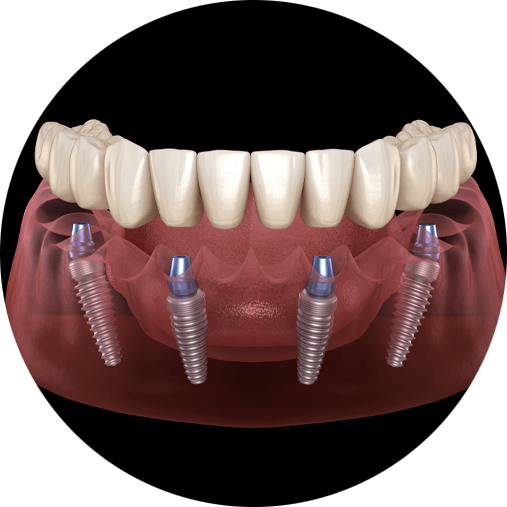 All-on-4® Dental Implants
The "gold standard" of full arch dental implants, All-on-4 dental implants can last decades, or even a lifetime! They attach to a set of four titanium posts that are implanted into your jaw. All-on-4 implants restore up to 99% of your biting and chewing power, allowing you to smile with confidence and eat an unlimited diet.
The NuSet Patient Journey
At your first visit to NuSet in St. Louis, MO, you'll meet with one of our trained patient consultants. Your consultant will give you a warm welcome and be with you through every step of your journey. You'll then get a complimentary 3D cone-beam computed tomography (CBCT) scan of your mouth and jaw. Your doctor will meet with you to look at your scans, discuss your treatment options, and answer any and all questions you may have. No matter what your situation is, we offer a variety of treatment choices, so you'll never be forced into a single treatment.
Common Questions about Dental Implant Surgery
What is a dental implant?
A dental implant is made up of three parts: a titanium or ceramic post, an abutment and a restoration. Built to function like natural tooth roots, dental implants provide bone support and a stable foundation for a single dental crown, a dental bridge, a denture or a full arch prosthesis.
Who is a candidate for dental implants?
Many patients are candidates for dental implants already, or can qualify after receiving preparatory treatments like bone grafting and tooth extractions. Candidacy is more accurately determined after a comprehensive consultation and evaluation with an implant dentist.
How much does treatment cost?
The cost of dental implants is based on many factors, including how many teeth are missing and for how long, the types of materials used and what additional procedures are needed. Our team can help you apply for dental financing, and we'll even file insurance claims on your behalf to help you afford treatment.
How long is the treatment process?
Dental implant treatment can range from a few months to over a year. In many cases, implants can be surgically placed soon after the consultation and treatment plan are complete. For patients needing bone grafting, this may be a separate procedure requiring several months of healing before dental implant surgery. After dental implants are placed, healing can take three or more months before optimal integration is achieved and a final restoration can be permanently attached. In many cases, patients can wear a temporary restoration during healing.
How long can I expect dental implants to last?
Dental implants can last for decades, and they have the potential to last for the rest of your life. Along with your health habits, surgical technology and clinical experience ultimately affect the longevity of your implants. Choosing an experienced implant team like ours at NuSet Dental Implants and Oral Surgery provides more precise and accurate surgery that better guarantees the long-term success of your treatment.
Meet St. Louis' Premier Oral Surgeons
Dr. Alexander Heatrice was born and raised in Oklahoma City, OK, and attended the University of Oklahoma. During this time, he developed a passion for dentistry. He completed dental school at Howard University in Washington, DC. After graduation, Dr. Heatrice decided that serving his country was the most honorable service to others. He served in the United States Army for seven years. "The military molded the determination, commitment, and leadership characteristics that I have today. I will admit nothing compares to the comradery of service to our great nation." Dr. Heatrice received a Master of Public Health degree from A.T. Still University. He also attended Herman Ostrow School of Dentistry at the University of Southern California for residency in Oral Facial Pain and Oral Medicine. He then entered the Oral and Maxillofacial Surgery Residency program at Harlem Hospital Center, an affiliation with the Columbia University College of Physicians and Surgeons in New York, NY. At the completion of this post graduate program in June 2020, he and his family now call St. Louis home. Dr. Heatrice has published several articles and continues with ongoing research projects. Dr. Heatrice is excited to provide service to the St Louis community.
Alexander Heatrice DDS, MHP, MS
Read More
Dr. Robert Cory Ryan is trained and licensed as both a dentist and a medical doctor. A Mississippi Gulf Coast native, he did his dental training at Louisiana State University before getting his Doctor of Medicine degree at Emory University School of Medicine. He opened his first practice in Colorado in 2013, and he acquired NuSet Dental Implants and Oral Surgery in 2021. Dr. Ryan is devoted to continuing his education in dentistry in order to remain at the forefront of his field, so he can better serve the people of Silver Spring.
Robert Cory Ryan, DDS, MD
Schedule Your Dental Implant Consultation Today!
I understand the information disclosed in this form may be subject to re-disclosure and may no longer be protected by HIPAA privacy regulations and the HITECH Act.
Are You A Candidate For Dental Implants?
Our Patients tell the story best
candidate for dental implants
Answer the Following Questions To Learn more about our pricing and financing options.