Nashville's One-Stop Shop for Oral Surgery
With the goal of becoming Scottsdale, AZ's top oral surgery and dental implant center, NuSet uses top-quality materials, high-end technology and an in-house laboratory on all of our patients' cases, which allows us to offer affordable upfront pricing for all procedures. Whether you need your wisdom teeth removed or you want to replace missing teeth, we offer uniquely customized care in Scottsdale.
Your NuSet Dental Implant Options
If you're missing one or two teeth, single dental implants are a long-lasting, natural-looking option. Each dental implant attaches to a single titanium post that's implanted into your jawbone, and can last decades or even a lifetime! We make the restoration specifically to match your existing teeth.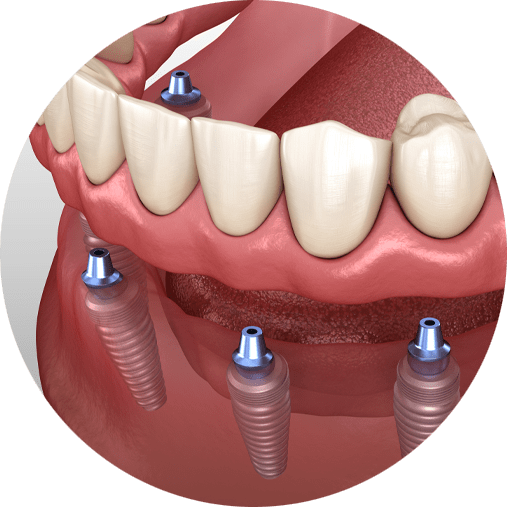 Implant Supported Dentures
Implant supported dentures combine the strength of dental implants with the flexibility of traditional dentures. They are attached to two or more titanium implants, preventing the restoration from moving around without adhesive, but they're completely removable for cleaning and replacement.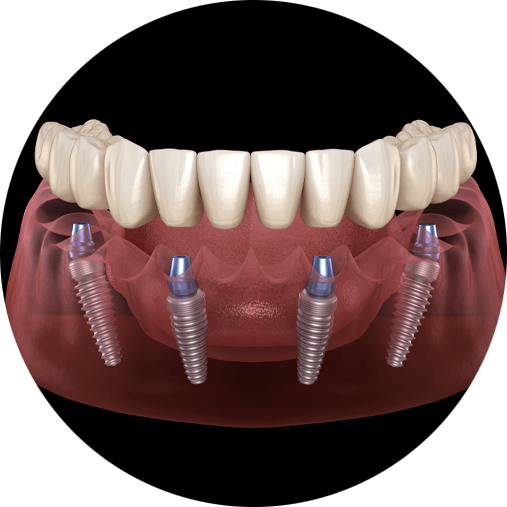 All-on-4® Dental Implants
If you need full arch dental implants, All-on-4 is the top solution for you. This custom treatment attaches permanently to four titanium posts that are implanted into your jawbone. With All-on-4 dental implants, you can eat an unlimited diet … and smile with confidence once again!
Your Custom Treatment Process
At NuSet Dental Implants and Oral Surgery, you'll begin by meeting with one of our patient consultants, who will help you throughout your treatment. You'll get a complimentary 3D cone-beam computed tomography (CBCT) scan of your jaw and mouth to determine what treatments would work best for you. At that point, you will meet one of our experienced dentists, who will discuss your choices. NuSet always gives you full control over what treatments you get, and we'll help you choose the one that best suits your personal, medical and financial situation.
Common Questions about Dental Implant Surgery
What is a dental implant?
A dental implant is made up of three parts: a titanium or ceramic post, an abutment and a restoration. Built to function like natural tooth roots, dental implants provide bone support and a stable foundation for a single dental crown, a dental bridge, a denture or a full arch prosthesis.
Who is a candidate for dental implants?
Many patients are candidates for dental implants already, or can qualify after receiving preparatory treatments like bone grafting and tooth extractions. Candidacy is more accurately determined after a comprehensive consultation and evaluation with an implant dentist.
How much does treatment cost?
The cost of dental implants is based on many factors, including how many teeth are missing and for how long, the types of materials used and what additional procedures are needed. Our team can help you apply for dental financing, and we'll even file insurance claims on your behalf to help you afford treatment.
How long is the treatment process?
Dental implant treatment can range from a few months to over a year. In many cases, implants can be surgically placed soon after the consultation and treatment plan are complete. For patients needing bone grafting, this may be a separate procedure requiring several months of healing before dental implant surgery. After dental implants are placed, healing can take three or more months before optimal integration is achieved and a final restoration can be permanently attached. In many cases, patients can wear a temporary restoration during healing.
How long can I expect dental implants to last?
Dental implants can last for decades, and they have the potential to last for the rest of your life. Along with your health habits, surgical technology and clinical experience ultimately affect the longevity of your implants. Choosing an experienced implant team like ours at NuSet Dental Implants and Oral Surgery provides more precise and accurate surgery that better guarantees the long-term success of your treatment.
Meet Our Oral Surgery Expert
Dr. Robert Cory Ryan is trained and licensed as both a dentist and a medical doctor. He got his degree in dentistry from the Louisiana State University School of Dentistry before going on to Emory University School of Medicine. He opened his first practice in Colorado in 2013, and then acquired NuSet at the beginning of 2021. His goal is to improve the self-confidence, oral health and quality of life of each of his patients.
Robert Cory Ryan, DDS, MD
Schedule Your Dental Implant Consultation Today!
I understand the information disclosed in this form may be subject to re-disclosure and may no longer be protected by HIPAA privacy regulations and the HITECH Act.
Are You A Candidate For Dental Implants?
Our Patients tell the story best
candidate for dental implants
Answer the Following Questions To Learn more about our pricing and financing options.